Dr. Ruchika Kedia , Ophthalmologist in Thane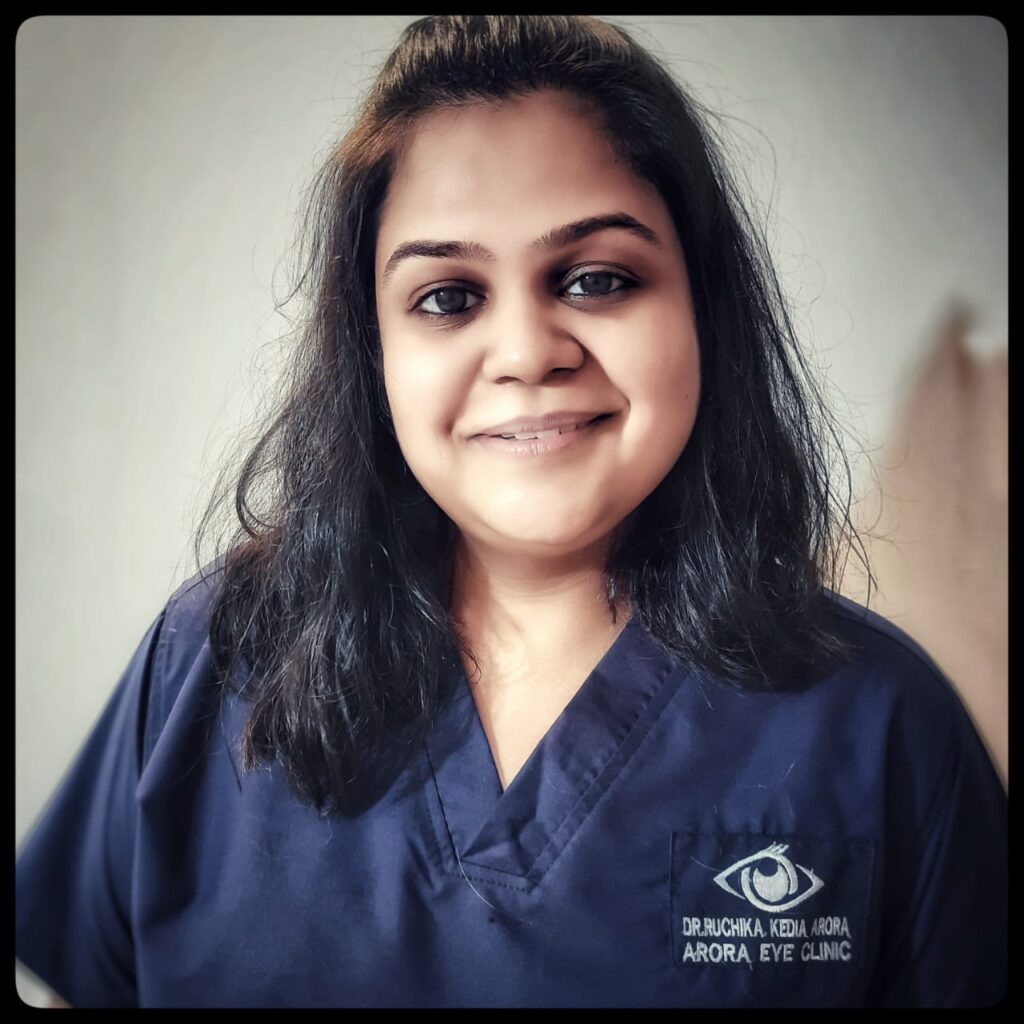 About Doctor.
MBBS, DOMS (gold medalist), DNB, Fellowship Cataract and Refractive surgery Dr. Ruchika Kedia is a well-known Ophthalmologist in thane, who holds an experience of more than 9 years practicing at Arora Clinic as Ophthalmologist in Thane. She has done her MBBS from DR P.D.M.C Medical College, Amravati, Maharashtra and DOMS and DNB from Institute of Ophthalmology, Pune, Maharashtra.
She has done fellowship in cataract and refractive surgery from Maharashtra.
She has also done Post Graduate Diploma in Medico Legal System and Hospital and Healthcare Management from Pune.
Computer Vision Syndrome (CVS)
Computer Vision Syndrome or CVS is the term used when referring to issues related to vision one gets when using the computer for longer period of time.
Dry Eye
Tears form a very important part of our eyes. They help keep them healthy and comfortable. If Our Eyes Do Not Produce Enough Tears Then This Condition Is Known As Dry
Cataract
The Natural Lens is located directly behind the iris and pupil of the eye. It is transparent and it changes the focal distance of the eye by changing its shape. The Lens
Lasik
A LASIK (laser-assisted in -situ keratomileusis) is a refractive, surgery done to correct vision. It is mainly performed to correct various eye disorders like myopia,
roshni dhamejani
2023-03-11
Had a very nice experience with doctor Ruchika, got my kids eyesight checked with her, she was very friendly and went out of the way to explain us what the actual eye power is. Very happy with the suggestion.
My mother has undergone cataracts eye surgery. Dr Ruchika has handled it very nicely. Best dr in the field
Rohan Sonawane
2023-03-09
Doctor is good , visited for my 4yr old son , she explained nicely only issue is space to less for waiting area.
Proper Guidance and positive overall
Shreyash Rewale
2023-03-06
Excellent treatment method most frndly nature doctor all good ☺️☺️
Doctor Ruchika listened to my concern patiently and gave a proper explanation. Great clinic.