Difference Between Eye Doctor & Glass Shop Technician
It is seen that most people tend to go to an optician (An eye glass shop technician) to get an eye examination done and to get their prescription glasses.  This is an incorrect practice as opticians can only help with the glasses you need but not be able to diagnose and treat other vision related problems.
The correct practice is to consult your eye doctor first and get all the examination done and then go to the optician with the prescription either to get new glasses or to check whether the existing one's are accurate.
As most people are unaware of the right eye specialist to go, let us explain the difference between an Eye Doctor and an Eye glass shop technician.
An eye doctor is a highly skilled Allopathic medicine or Osteopathy trained physician who is a specialist in care and the medical field of Ophthalmology. The medical term to refer an eye doctor is "Ophthalmologist".
The level of training an Ophthalmologists undergoes, allows them to treat all eye conditions. This includes surgery of complex eye problems. In addition to operating, ophthalmologists also provide vision checks, treat eye infections and could also be consulted for a glasses and/or contact prescription.
Ophthalmologist should not be confused with Optometrists
An optometrist also specializes in treatments for the health of the eye, but unlike ophthalmologists, optometrists cannot perform major eye surgeries such as cataract. The services offered by an optometrist differ from country to country.
In India, there are multiple cadres of optometrists providing eye care services with varying levels of skill and training. Optometrists in India can perform functions related to eye care only as per their educational qualifications in optometry. While two-year trained optometrists can provide refraction, dispense spectacles and contact lenses and provide basic diagnostic services, four-year professionally trained optometrists can provide comprehensive vision care in India. Still, it is important to note is that an optometrist is not a medical doctor.
An Eye glass shop Technician
An eye glass shop technician is not a trained eye doctor. Typically known as an optician, the area of knowledge and expertise of an eye shop technician includes adjusting eye glasses, selecting the most appropriate types of lenses, sunglasses, frames, optical aids and simple magnifying devices.
Since, opticians are not trained as an eye doctor; they cannot give eye exams, diagnose medical eye problems such as dry eye, nor provide prescriptions for contacts.
How does the educational qualification differ?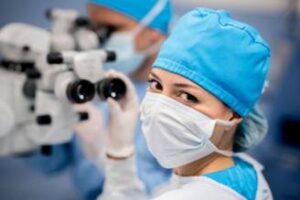 The educational requirement to become an ophthalmologist is very rigorous. Attending a medical school to obtain a medical degree from either an Osteopathic Medical Program (D.O. degree) or an Allopathic Medical program (M.D. degree) is required to become a skilled eye doctor.
After completing it is followed by years of training and transitional internship. After this further specialization into a specific area of the eye including the retina and cornea can also be done to sharpen the skills.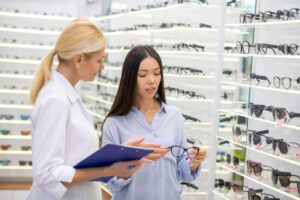 There is no specific qualification to become an eye glass shop technician. Though, they might need a license to run an eye glass business.
How is the work scope different?
An Eye Doctor's work includes
Diagnosing and treating eye health conditions
Performing complex eye surgery needed for condition such as eye trauma, glaucoma or cataract surgery with lens implant
Performing in-office eye care procedures such as LASIK for vision correction
Providing vision services like detailed eye care exams
Prescribing eye glass or contact lenses prescriptions
Prescribing medications for eye diseases and conditions
An eye glass shop technician's work includes
Repairing eyeglass frames
Assisting in selecting eyeglass lenses and sunglasses
Assisting in selecting eyeglass frames
Examination eyeglass lens prescriptions for accuracy
Thus, we observe that the role of an eye doctor and eye glass shop technician is completely different. Patients need to be aware of what eye care they want and choose to visit the right eye specialist.