Looking for Cataract Surgery in Thane?
Cataract surgery is a very common procedure now and is one of the leading causes of blindness in India. Set up an appointment with Dr. Ruchika today at Arora Eye Care Center for your cataract surgery in Thane.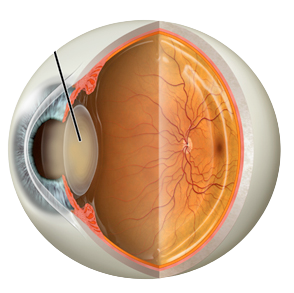 What is a cataract Surgery or cataract surgery in Thane?
Cataract surgery or cataract surgery in Thane is a type of eye surgery to eliminate a cataract (cloudy lens). Similar to a camera, your eye contains a lens for focusing light. This lens is typically clear. When this lens turns cloudy, it is called a cataract. Cataract surgery , Cataract Surgeons  removes the cloudy lens and replaces it with a clear replacement lens, restoring your sight.
Cataract surgery is mostly an outpatient procedure that is typically performed by an eye specialist in thane . It's extremely popular and generally considered a very safe procedure.
A cataract is mostly brought on by aging. In addition, a number of variables, such as the following, can lead to the development of cataracts:
Diabetes
Previous eye surgery
Over usage of medication
Hypertension
UV radiation
Long Exposed to sunlight
Untreated Eye injury
Drinking excessive amount of alcohol
Cataract symptoms and signs include:
Double vision in the affected eye
Vision that is clouded, blurred, or dull
Poor night vision
Colors look faded
Lamps, sunshine, and headlights appear to be overly bright.
From one eye to the other, cataracts cannot leap. However, many people who get one end up getting it in the other eye as well.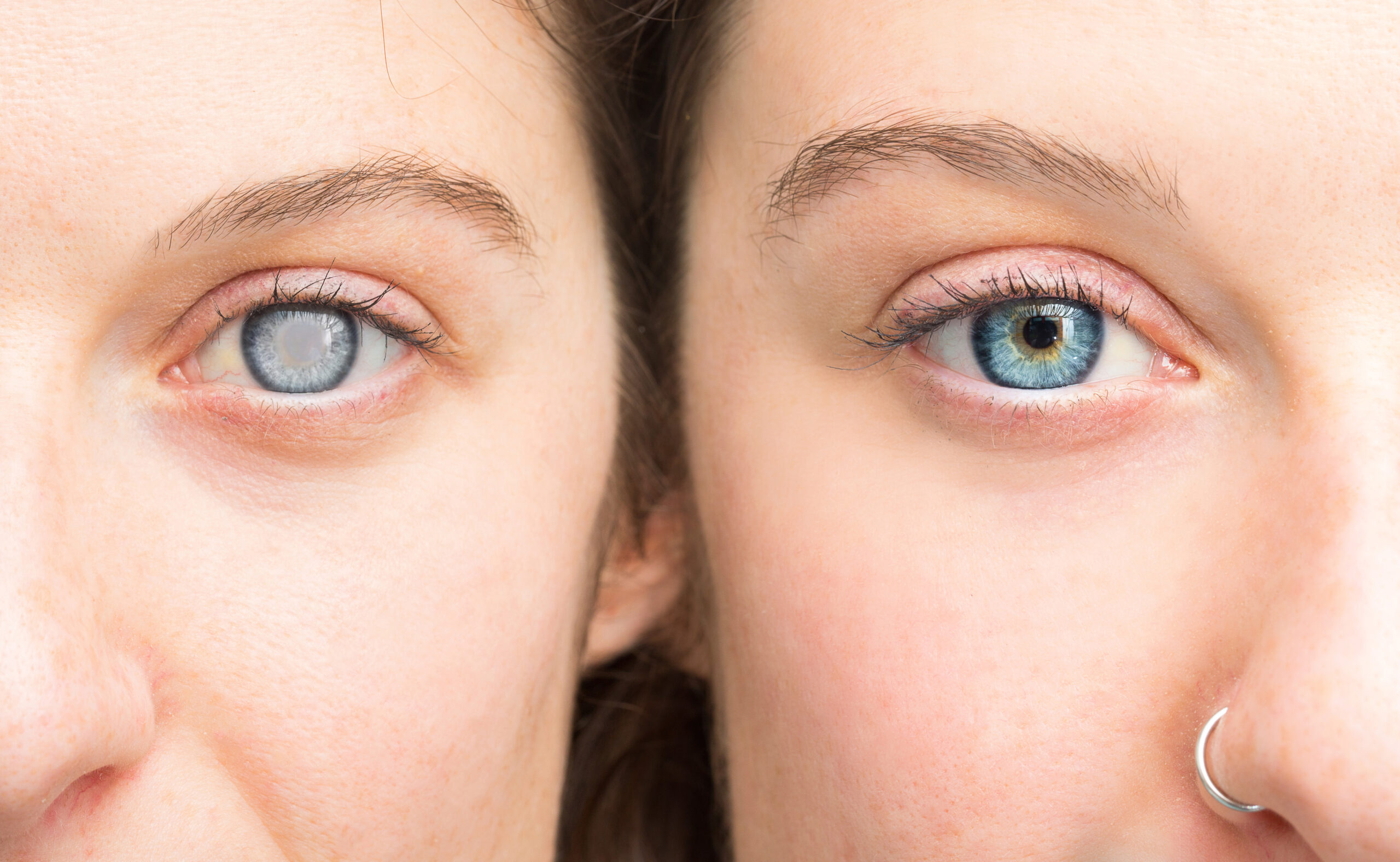 Types of Cataract Surgery or Treatment of cataract surgery in Thane
Types of cataract surgery. Cataract eye Surgery in Thane specialist Dr. Ruchika Arora can explain the differences and assist you in determining which is best for you:
1. Phacoemulsification
2. Extracapsular surgery
3.Femtosecond laser-assisted cataract surgery (FLACS)
How can I know whether I need cataract surgery?
Your optometrist can provide a new prescription for glasses or contact lenses if you notice any symptoms of cataract development early on. But as time passes, cataracts typically worsen and eventually do not impact your daily life enough to require extensive cataract treatments, such as removing the eye's lens and replacing it with an artificial one. You and your doctorultimately decide to get cataract surgery in Thane so that you can live your life to the fullest.
Cataracts are not a medical emergency. You can postpone the procedure till it is most convenient for you.
What happens before cataract surgery ?
Before cataract surgery your optometrist or Cataract surgeon in thane: –
Will evaluate your eye to determine the appropriate IOL focusing power
Will inquire about any prescription drugs you may be taking.
May recommend eye drops to treat eye inflammation and prevent infection.
What happens during a cataract operation ?
Before the procedure, you might need to fast (i.e., not eat or drink) for several hours. Additionally, you could be asked to temporarily stop taking some medications by your eye specialist doctor .
Since cataract surgery is an outpatient operation, you can leave the hospital right away. You will require someone to accompany so you can return home.
Here is what to expect throughout the procedure:
Numbing medication
Cataract Removal
Recovery
How long cataract operation last?
It merely takes a few minutes to remove the cataract itself. It usually only takes 20 to 30 minutes to complete the process.
What happens after Cataract Surgery?
Most patients leave the hospital for home within 30 minutes of surgery. The eye shield may need to be worn while you sleep, but you can usually take it off the next day. After surgery, you will require using specialized eye drops for roughly four weeks.
Your vision may not become clear for many days to several weeks. Other temporary negative consequences involve:
Double or blurred vision
Feeling of grit in your eyes
Bloodshot or red eyes.
Watery Eye
How Long Does Recovery Take After Cataract Surgery?
You might need to use eye drops for a few days or weeks following surgery. Make careful to use these drops according to your doctor's instructions.
Avoid getting water or soap in your eyes.
Avoid touching or rubbing your eye. To safeguard your eye, your ophthalmologist could advise you to wear eyeglasses or a shield.
When you sleep, you must put on an eye shield for protection.
With you, your ophthalmologist will discuss how active you can be right after surgery. When you may safely exercise, drive, or engage in other activities once more, they will let you know.
Dos and Don'ts after cataract Surgery?
As indicated, use eye drops.
Use your eye pad, eye shield, and glasses.
As usual, use the computer, watch TV, and read.
When going outside, use sunglasses.
Returning to normal your daily schedule and activities.
Press or rub the eye.
Get soap or water in your eyes.
Engage in intense activity.
Use eye makeup.
 
Two weeks after surgery, go swimming.
Fly before receiving your provider's approval.
Get your cataract treatment in Thane by seeing the best ophthalmologist, Dr. Ruchika Arora
Dr. Ruchika Kedia , Ophthalmologist in Thane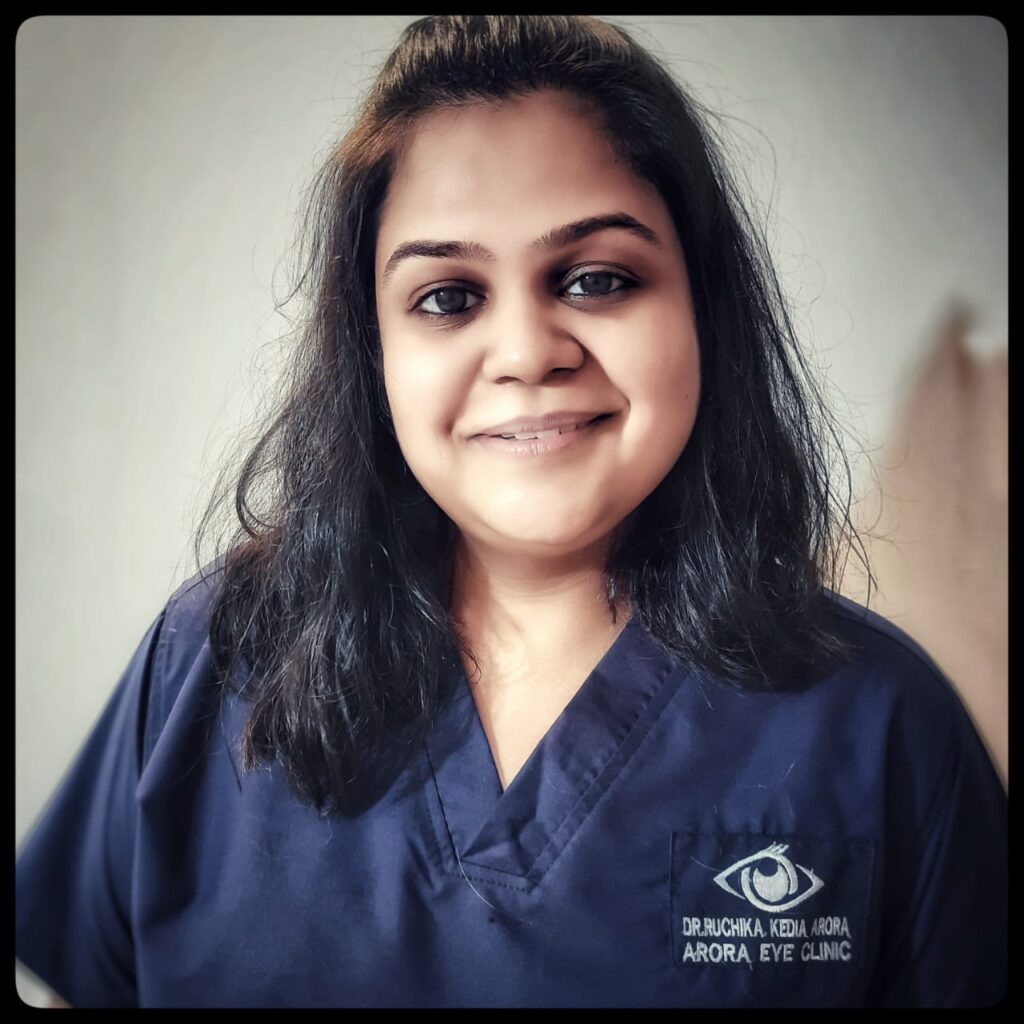 About Doctor.
MBBS, DOMS (gold medalist), DNB, Fellowship Cataract and Refractive surgery Dr. Ruchika Kedia is a well-known Ophthalmologist in thane, who holds an experience of more than 9 years practicing at Arora Clinic as Ophthalmologist in Thane. She has done her MBBS from DR P.D.M.C Medical College, Amravati, Maharashtra and DOMS and DNB from Institute of Ophthalmology, Pune, Maharashtra.
She has done fellowship in cataract and refractive surgery from Maharashtra.
She has also done Post Graduate Diploma in Medico Legal System and Hospital and Healthcare Management from Pune.
Computer Vision Syndrome (CVS)
Computer Vision Syndrome or CVS is the term used when referring to issues related to vision one gets when using the computer for longer period of time.
Dry Eye
Tears form a very important part of our eyes. They help keep them healthy and comfortable. If Our Eyes Do Not Produce Enough Tears Then This Condition Is Known As Dry
Cataract
The Natural Lens is located directly behind the iris and pupil of the eye. It is transparent and it changes the focal distance of the eye by changing its shape. The Lens
Lasik
A LASIK (laser-assisted in -situ keratomileusis) is a refractive, surgery done to correct vision. It is mainly performed to correct various eye disorders like myopia,
roshni dhamejani
2023-03-11
Had a very nice experience with doctor Ruchika, got my kids eyesight checked with her, she was very friendly and went out of the way to explain us what the actual eye power is. Very happy with the suggestion.
My mother has undergone cataracts eye surgery. Dr Ruchika has handled it very nicely. Best dr in the field
Rohan Sonawane
2023-03-09
Doctor is good , visited for my 4yr old son , she explained nicely only issue is space to less for waiting area.
Proper Guidance and positive overall
Shreyash Rewale
2023-03-06
Excellent treatment method most frndly nature doctor all good ☺️☺️
Doctor Ruchika listened to my concern patiently and gave a proper explanation. Great clinic.